Ultima Ratio Regis.
Ultima Ratio Regis, the definitive strategy game of the modern age.
Ultima Ratio Regis (uRR) is a game for 1-8 players, which recreates the military history of the modern European age, starting with the discovery of America, and ending with the French revolution.
The game spans 20 15-year turns, lasting between two and four hours each, and is organized into multi-turn scenarios. In Ultima Ratio Regis, players will lead the different powers that disputed the world hegemony during the sixteenth to eighteenth centuries.
In the designer notes you can see the reason for many design decisions, and you can go a little deeper into this game.
This first release provided an introductory 1 player scenario "The Rise of Portugal", and two scenarios for the first 3 and 5 game turns: "New Order" and "Italian Wars". In the second one we added three new scenarios containing the French Wars of Religion, turns 6 to 8 (1565 – 1609).
This third release includes some rule modifications (hence the change to version 2.0) that give the game more realism without adding complexity. Some parts of the rules have also been rewritten to improve their comprehension and accuracy. The main new features are:
The size of the invading army in amphibious landings is limited.
The abilities of the Determined general have been slightly changed.
Leader reassignment is simplified.
Trade rules are slightly modified to better adapt them to overseas trade.
It is more difficult to intervene in diplomacy with minor powers.
In addition to all this, two new scenarios have been included:
Thirty Years' War (1610-1654)
The conflict that ravaged the Holy Roman Empire in the first half of the 17th century.
Wars of Religion (1565-1654)
This includes the nearly one hundred years of conflicts of religious origin between Catholics and Protestants that devastated Europe, highlighting the French Wars of Religion and the aforementioned 30 Years' War.
And as already anticipated, this third release includes an exceptional graphic design, which not only pleases the eye but also greatly improves the quick access to the information of the game.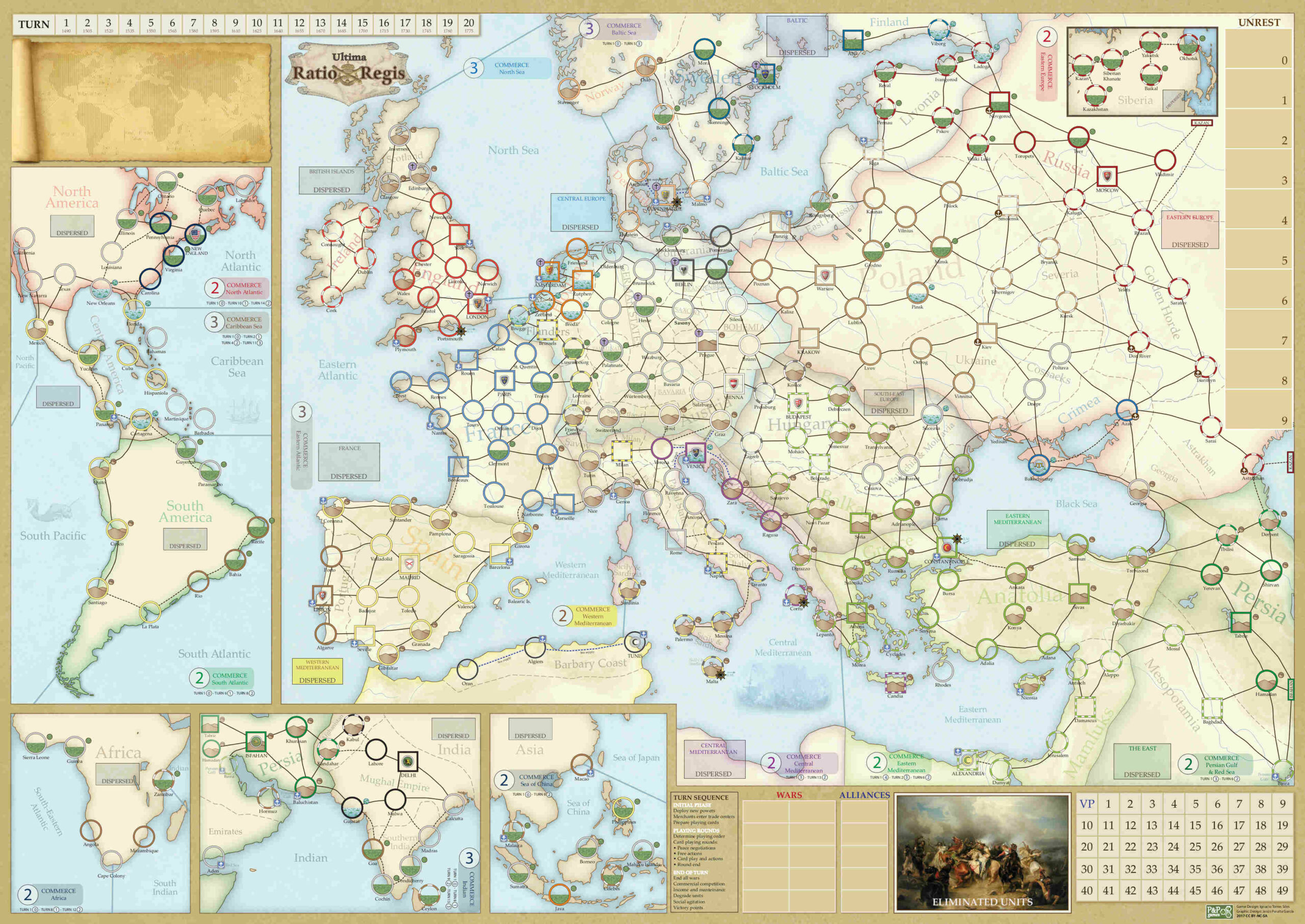 Download here the game, ready for print and play:
Rule book and play book for Ultima Ratio Regis.
Ultima Ratio Regis elements: Cards, maps and counters.
The living rules version that adds clarifications and fixes errors and typos.
---
The instructions to do it yourself are here.
Below you can download de VASSAL module: